Equipment Operator / CDL Licensed
Producers Service Corp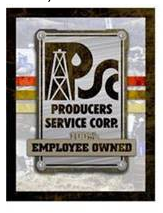 Producers Service Corp. – Hennessey, OK
Equipment Operator / CDL Licensed
Description:
Reporting to the Stimulation Operator, the Equipment Operator/Driver is responsible for rig-up, operating, rig down, driving and maintaining of assigned pumping services equipment such as the Pump Truck, Iron Truck, Sand Units and Bulk Units. Drivers will be required to hold a CDL with tankers and hazard material endorsements.
Duties and Responsibilities:
Maintain equipment to Producers' standards.

Communicate effectively with Frac Operator in planning and execution of services.

Maintain safety standards at all times.

Keep paper work current; maintenance sheets, fuel logs, log-books, pre/post trips and job summary.

Monitor execution of job accurately.

Follow all safety rules and work procedures set by Producers.

Know and comply with required legislation.

Report all hazards or potentially hazardous situations to the Frac Operator.

Report all accidents, incidents and injuries immediately.

Participate in safety and general meetings.

Ensure all equipment, including personal protective equipment is in proper working order, and maintained to Producers' standards.

Knowledge of the following for emergency situations:

Emergency Response Plans.

Location and use of all required safety equipment.

Knowledge of health and safety hazards of fluids and chemicals transported.

Knowledge of types of personal protective equipment, correct use and care of.
WORK ENVIRONMENT / PHYSICAL ABILITIES:
While performing the duties of this job the employee is regularly exposed to moving mechanical parts, outside weather conditions, and travel with overnight stays. The employee is regularly exposed to fumes or airborne particles, toxic or caustic chemicals, and vibration. The noise level in the environment is moderate to loud.
While performing the duties of this job the employee is regularly required to stand, sit and walk, use hands to handle or feel, reach with hands and arms, lift up to 50 pounds for lengthy periods of time while sitting up/tearing down job sites. This position is considered a very physical job position. Occasionally required to climb or balance, stoop, kneel, crouch, or crawl, talk, hear and smell, and lift more than 100 pounds. The vision requirements include: close vision, distance vision, peripheral vision, depth perception and ability to adjust focus.
Qualifications:
Ability to pass a Drug and Background Check
CDL with endorsements preferred, HazMat required within 90 days of employment
High School or GED required
Oilfield experience preferred
Driver's License with Good driving record
Candidates interested in applying should submit a resume to rdille@producersservicecorp.com or emailing a completed application found on our website at http://www.producersservicecorp.com/employment.html.
Producers Service Corp is a 100% employee owned company that offers individuals a dynamic work environment. The driving force behind our organization is the sincere commitment to our people and their focus on exceeding customers' expectations. We offer excellent pay and benefits including health, prescriptions, dental, vision, STD, LTD, Life, 401K, paid vacation and ESOP stock ownership.
Categories
Before you go...
Our free job seeker tools include alerts for new jobs, saving your favorites, optimized job matching, and more! Just enter your email below.
Share this job
Equipment Operator / CDL Licensed
Producers Service Corp
Hennessey, Oklahoma

Powered By